UConn Community Outreach and Special Olympics Connecticut have maintained a strong partnership for many years. Community Outreach hosts three larger scale events for Special Olympics each year. These events are planned by a committee of UConn students dedicated to serving the mission of Special Olympics.
For more information about the committee and these events please contact us by email at uconn.co.olympics@gmail.com
 Community Outreach also supports Special Olympics Connecticut through our One Time Service Programs and Semester Long Programs, please visit those sites to see how else you can get involved. 
The mission of the Special Olympics is to provide year-round sports training and athletic competition in a variety of Olympic-type sports for children and adults with disabilities. These continuing opportunities develop physical fitness, demonstrate courage, build skills, and develop friendships with families and other Special Olympics athletes and the community.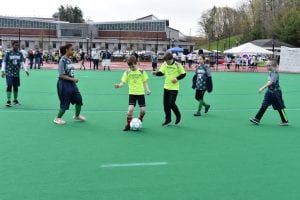 Community Outreach organizes three events during the school year to support Special Olympics CT. These events allow UConn students and surrounding community organizations to form teams for participation in different sports, as well as to support the athletes and help to raise money for Special Olympics branches in CT. 
UConn students along side Special Olympics staff and athletes advocate to raise awareness and spread Inclusion with R-word campaign events. Together we aim to create inclusive spaces across our community with respect and understanding for people of all abilities. 
Community Outreach facilitates three Special Olympics events per year:
SO Unified 3 v 3 Basketball Tournament
Smile Mile
Husky Classic Soccer Tournament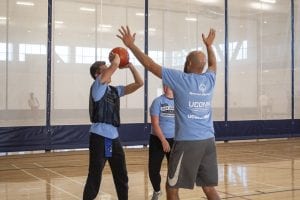 Special Olympics Unified 3 v 3 Basketball Tournament
UConn students along with Special Olympics staff organize a unified basketball tournament during the fall semester. This event allows UConn students, staff and athletes to come together to form teams at varying levels of competition in this tournament. This event serves not only to build community and spread inclusion but also as a fundraiser for local Special Olympics teams. 
Spread the Word: Inclusion
The Jeffny Pally Smile Mile, is an event held during the spring semester, that brings the vision of a passionate student to life. Jeffny's vision was for an event where UConn students would walk side by side with Special Olympics athletes in an event she coined "The Smile Mile". Jeffny's vision for creating inclusion and accessibility in our community has driven students to continue to make her vision a reality. Participants in this event come together to meet new people, have fun with small games and activities and most importantly, to "Spread the word Inclusion".
Husky Classic
The Husky Classic Soccer Tournament is a Special Olympics tournament that is a qualifying event for the Summer Games. The event is held at UConn's Storrs campus during the end of the Spring Semester each year.
The Tournament brings together athletes and family members along with the UConn community to promote the Special Olympics program and provide an environment or friendly competition and fun.