Community Outreach alumni continue to meet the identified needs of communities by directly serving citizens, partnering with community based organizations and shaping public policy through advocacy initiatives. Many of our alumni are leaders in their careers and communities, while still taking time to work with CO students to help them achieve their goals. We provide opportunities for CO Alumni to:
Continue to serve communities in need
Engage with current CO students
Socialize and network with other CO alumni
Participate in development initiatives for CO
Alumni - We would love to hear from you! Please connect with Miguel Colon Miguel.Colon@uconn.edu and let us know how you would like to stay involved!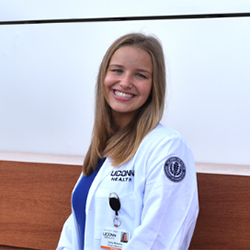 Carly Malesky '21
"It was exciting to see the campers engaged in learning how blood flows through the heart, encouraging me to recruit more volunteers to gain meaningful insight into the lives and capabilities of those Horizons serves."
Carly graduated from UConn this past May with a dual degree in physiology and neurobiology and psychology, and a minor in neuroscience. During her freshman and sophomore years, she volunteered with Camp Horizons, and in her junior year, she became Program Director. One of her favorite lessons she led at Camp Horizons focused on cardiac health.
Currently, Carly is a first-year medical student at UConn continuing her passion for disability advocacy on the board of disabilities interest group. She is also involved with the Urban Service Track and has been collaborating with senior centers in Hartford to provide education on the COVID vaccine and resources for testing.
Carly reflects that she has CO to thank for encouraging her growth as a leader in her community and providing her with a deeper understanding of the impact of her service. When not volunteering, Carly likes eating a ton of ice cream ("even if it means postponing a staff meeting with Erin") and staying active enough to balance it all out. She also loves hiking and being by the beach.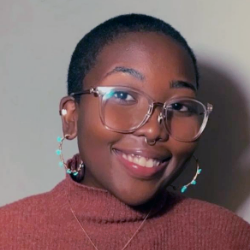 Nayo Daniel '20
Nayo graduated from UConn in 2020 with a degree in Psychology and Human Development and Family Studies. During her time at UConn, she served as a participant and Student Leader for Community Outreach's COPE Program, spent a semester as an FYE mentor, and facilitated the Leadership Certificate Series Workshops. In her senior year, she was Student Coordinator for the Youth Development and Education for Children Program.
Currently, Nayo is serving as the Volunteer and Programs Coordinator for Maggie's Place through a partnership with AmeriCorps. Maggie's Place is a nonprofit organization that provides housing and a multitude of resources to support pregnant women experiencing homelessness. They prioritize using a trauma-informed care approach to ensure that staff and volunteers are serving the population they work with through a holistic lens.
Community Outreach has played an integral part in Nayo's development and has influenced her desire to continue doing meaningful work in the communities that need it. She plans to pursue a Master's degree in Social Work in 2022 and eventually work as a therapist for children and families.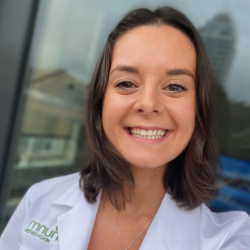 Kaitlyn Luft '19
Kaitlyn graduated from UConn in 2019 with a degree in Global Health Promotion and a minor in Human Rights. During her freshman and sophomore years at UConn, she volunteered as a participant in Big Brothers Big Sisters (BBBS). As a junior, she served as a BBBS Site Manager and went on her first Alternative Break. She led the Community Development Alternative Break to Costa Rica during her senior year. 
After graduating, Kaitlyn served as the interim Alt. Breaks Staff Coordinator from January 2020 to June 2021. She loved serving in this role, and it has influenced her desire to continue doing meaningful work in the community. 
Currently, Kaitlyn is attending medical school at the National University of Natural Medicine (NUNM) in Portland, Oregon. She's pursuing her doctorate in Naturopathic Medicine and a master's of science in global health. She's interested in the intersection of policy, holistic individual-level care, and effective human-centered solutions.
Alumni - We want to know how you want to best be engaged with Community Outreach! Please fill out the form here so we can best serve you!