Community Outreach alumni continue to meet the identified needs of communities by directly serving citizens, partnering with community based organizations and shaping public policy through advocacy initiatives. Many of our alumni are leaders in their careers and communities, while still taking time to work with CO students to help them achieve their goals. We provide opportunities for CO Alumni to:
Continue to serve communities in need
Engage with current CO students
Socialize and network with other CO alumni
Participate in development initiatives for CO
Alumni – We would love to hear from you! Please connect with Gina DeVivo Brassaw at gina.devivo_brassaw@uconn.edu and let us know how you would like to stay involved!
---
Alumni Spotlights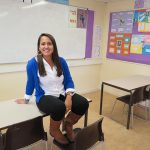 Laura Knox '14
Laura Knox '14 was always involved in volunteer programs growing up and in high school so it was inevitable that she would continue to stay involved as a student at UConn. She was a bit lost as a freshman but knew that she wanted to challenge herself and take a risk and so she felt that going on a week-long service trip to Atlanta with 15 strangers was a perfect opportunity. Her journey didn't stop there. She continued to participate in Alternative Break trips each year traveling to Atlanta, Alabama, Mississippi and then twice as a leader to Costa Rica.