Semester Long Programs are programs that require a weekly commitment from the student participants throughout the semester. Programs available in this format range from mentoring and tutoring youth to operating community health clinics and supporting the guests at local homeless shelters.
Students with Federal Work Study may be eligible to use their participation in these programs to receive their award.
Community Outreach's health services programs work with a wide range of clients to support local health care organizations. Students can participate in a variety of settings including local hospitals, health clinics and simulation labs.
_
Community Outreach's social services programs work with a wide range of clients to address various concerns including homelessness, physical or mental disabilities, and food insecurity. Students can work in a variety of settings tackling challenges and building genuine relationships with clients.
Youth Development & Education for Children
UConn volunteer and work-study students act as mentors and tutors supporting children in their academic and personal development. Programs are located in public schools and community based organizations and run during and after school.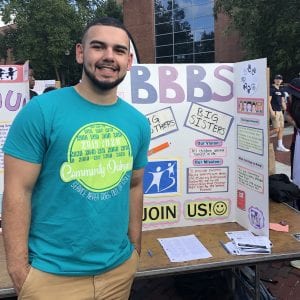 Youth Development & Education for Adolescents
Community Outreach's adolescent programs collaborate with organizations that engage youth in fun, learning centered initiatives that seek to further develop their self-awareness, academic aptitudes, and long-term career plans. UConn students serve as tutors and mentors in a variety of classroom and after school settings
Understanding and utilizing written and verbal communication is crucial to navigating our society's academic, economic, and social structures. Community Outreach's literacy programs work with children, adolescents, and college students to improve their literacy levels and mastery of the English language. UConn Student volunteers and work-study students act as tutors and conversation partners in various programs on and off campus