Mission & Vision Statement
Civic engagement and dialogues initiatives foster a culture of participation and connection by helping students find agency in and discuss public issues that they care about. Using students' education, values, and skills, these programs aim to create lifelong engaged democratic citizens.
BUILDING CIVIC IDENTITY WORKSHOP
March 20th
5pm-7pm
Rm 203, Community Outreach Office, Student Union

Join Community Outreach's Civic Engagement Initiatives for a Civic Engagement Workshop. Free Pizza and Soft Beverages will be Provided!
RSVP via the QR Code in the flyer.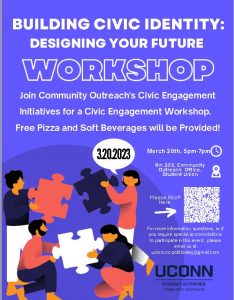 HOUSING INSECURITY ON THE UCONN CAMPUS
Thursday, March 2nd
6 - 8pm
Student Union 203

Join Community Outreach's Dialogues Initiative for a screening of "Housing (In)Justice," a docuseries created by a UConn student, followed by an open discussion about housing insecurity.
RSVP via the QR Code in the flyer.