What is Call to Action?
Call to Action (CTA) is UConn Community Outreach's e-bulletin developed to publicize campus/community-based events and other relevant opportunities. If you are interested in publicizing a related opportunity, please complete our online form.
Fall 2021 opportunities are updated frequently. In-person and virtual options offered.
Community Events and Speakers
Careers in Advocacy (Virtual Event – 10/4, 6PM)
Careers in Advocacy - VIRTUAL EVENT
Careers for the Common Good is hosting the Careers in Advocacy panel to provide a space for undergraduate students who are interested in pursuing careers in nonprofits & advocacy. Students will hear how professionals in local and national non-profits navigated their careers in nonprofit and advocacy work. There will also be a live Q&A session where students will have the opportunity to ask their own questions. This panel is in response to the growing advocacy efforts on UConn's campus in recent years, such as the March to End Victim Blaming and the Climate Strike. This is a great opportunity for students to learn about how to turn their advocacy efforts into a career.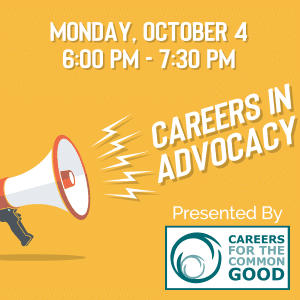 Event date: Monday, October 4th | 6:00 - 7:30 PM
Register here: https://uconn.joinhandshake.com/events/789139/share_preview
If you have questions or concerns, please contact Alexis Cortes at aac15114work@uconn.edu.
---
Internships and Job Opportunities
UConn Fall Career Fairs (In-person + Virtual)
UConn Fall Career Fairs (In-person + Virtual)
Are you looking for a full-time job, internship, or co-op this semester? You're in luck! The Center for Career Development is hosting in-person and virtual career fairs this month. There will be over 200+ employers to speak to and opportunities to choose from -- don't miss out on these opportunities!
In-person Fair:
Tuesday, September 21st from 11-3pm in Gampel Pavilion. Register 
here
.
Virtual Fair:
Tuesday, September 28th from 11-3pm via Handshake. Register 
here
.
---
Integrated Refugee and Immigrant Services (IRIS) – Internship Opportunity
Integrated Refugee and Immigrant Services (IRIS)
Integrated Refugee and Immigrant Services (IRIS) is looking for a Health Department Intern for the 2021 Fall semester. IRIS has plans to resettle close to 500 Afghan refugees in CT within the next few months and is looking for a motivated and justice-oriented student to help with this important cause. Afghan students will be prioritized. Fluency in languages including Swahili, Farsi/Dari, Pashto, and Spanish are preferred.
Commitment: 3-month minimum
Number of interns per semester: 2-3 people
Hours/days/times: 10-30 hours per week depending on availability, flexible days and times (you can create your own schedule, but preferred availabilities are Tuesday mornings, Wednesdays, and Fridays for driving clients to adult and pediatric refugee clinics in the Hartford area if intern has a car).
Duties:
● Follow up on referrals to specialists and other appointments as necessary.




● Show clients how to make medical appointments and come up with reminder systems.




● Secure and coordinate transportations to medical appointments and help clients find ways to get to their appointments independently.




● Attend Pediatric Refugee Clinic and Adult Refugee Clinic.




● Ensure that proper language interpretation and translation are provided as needed for




meetings with clients.




● Instruct clients on how to fill prescriptions at a pharmacy, including requesting refills.




● Make referrals to other specialized programs for clients depending on need.




● Resolve medical billing issues with collection agencies via phone.




● Monitor progress of client's health and encourage regular contact with health care




providers.




● Provide additional community and cultural orientation as needed.
Requirements: Ideal candidates have experience with immigrants, demonstrate strong interpersonal and communication skills, and are comfortable meeting and assisting refugee and immigrant clients on their own. Most communications are conducted with the help of an interpreter. Interns must be able to interact and advocate on behalf of clients with schedulers while encouraging direct relationships with offices and medical professionals. Preference for individuals who are able to drive or can drive clients in their own car, but this is not required.
Apply here: https://irisct.org/intern/ 
Please contact Bianca.Spataro@uconn.edu if you have any questions about this role.
---
SHARE Award – Research Apprenticeship Program
SHARE Award - Research Apprenticeship Progam
The Social Sciences, Humanities, and Arts Research Experience (SHARE) Award is a research apprenticeship program designed especially for students in the earlier stages of their college careers. A SHARE project serves as an introduction to research in a chosen field and helps students develop the skills they will need for further research projects. SHARE awardees spend an average of 9 hours per week during the Spring 2022 semester working on a faculty project.
For more information please visit: https://ugradresearch.uconn.edu/share/
Deadline: 11:59 pm on Monday, October 18th
For more information, contact: Melissa Burkey, Office of Undergraduate Research (melissa.berkey@uconn.edu)
Change Grant – Receive Funding to Support Community Service, Research, and More! 
Change Grant - Receive Funding to Support Community Service, Research, and More!
Applications are now open for the UConn Co-op Legacy Fellowship – Change Grants! UConn undergraduates in all majors can apply for up to $2000 in funding to support community service, research, advocacy, and social innovation projects that represent the legacy of the UConn Co-op and their commitment to public engagement, innovation, and social impact.
Projects need to be student-designed and/or student-led. Applications are accepted from individuals and from small groups (no more than 3 people) who will be working collaboratively or co-leading an initiative.
For more information please visit: https://ugradresearch.uconn.edu/change
Applications will be reviewed monthly starting October 2021. 
Fall Semester Deadlines: September 30, October 31, November 30
For more information, contact: Melissa Burkey, Office of Undergraduate Research (melissa.berkey@uconn.edu)
Previous Events/Opportunities