Call to Action (CTA) is UConn Community Outreach's e-bulletin developed to publicize campus and community based events and opportunities. If you are interested in publicizing a related opportunity, please complete our online form.
Community Events and Speakers
UCONN Sport Business Conference 
February 8th, 2020 @ 8:00 am
Location: McHugh Hall
People participating would need to purchase tickets before the day of the event
A opportunity to meet and talk with many professionals in the sports industry including from ESPN, UConn Athletics, the NFL, and more! We have many speakers and workshops to help others pursue their dreams in the sports world. Tickets can be purchased on the UConn Sports Business Conference website http://s.uconn.edu/uconnedusbc2020!
Please contact Robert Shamirian at robert.shamirian@uconn.edu  if you have any additional questions!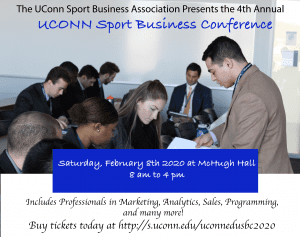 Community Engagement Opportunities
ServeUp Alternative Spring Break 
March 14, 2020- March 21, 2020
The vision of ServeUp alternative spring break is to rebuild lives through rebuilding houses of communities devastated by natural disasters. This year we will be serving Panama City, Florida after the 2018 hurricane. Our main focuses are on service, community, and conversations around faith and justice.
Reach out to Trinity Brandt at Trinity.Brandt@uconn.edu for more information before 12/13/19.
---
UConn Basketball Game- Concession Stand Volunteer
At each UConn MBB and WBB home game, we need 6-8 people to:
Tasks: selling mostly precooked food-pretzels, popcorn and nachos, and selling it or for the customer.
Hours: The game, setup and clean up last about 4.5-5 hours. Volunteers need to arrive 1 hour before gates open. Concession stand opens 1.5 hours before the game starts to warm food. Volunteers need to be 16+ to work but cashiers need to be 18+.
Uniform: Black jeans/pants, a group shirt will be provided at event or you can wear UCONN shirt and must bring a hat.
Parking: There is a free parking lot by the Ice hockey rink on Jim Calhoun way where volunteers can park and walk up to Gampel or they can pay to park at the South Garage approximately $10

Upcoming: 12/4 
Please bring a hat (we will give you a UR Community Cares pin to put on it), group shirts will be provided, wear black pants and sneakers.
*We need Volunteers for all games, please email info@urcommunitycares.com or michellepuzzo@urcommunitycares.com to sign up for any game.
Volunteers can sign up for games between now and March 4th, 2020. Check the schedule below to choose which game you would like to volunteer for.
---
Volunteer to help Elderly in the Town you Live 
UR Community Cares, Inc. was established in 2019 to introduce an inter-generational platform that connects local volunteers with age-qualified adults (age 70+, or age 18+ for those with a physical disability) who need assistance at home. As the population of older adults grows dramatically, we provide tangible support for "aging in place" and maintaining social connections for improved health outcomes. Each town we serve has its own dedicated base of volunteers who are assigned to residents in that town, fostering additional opportunities to build neighborly communities.
Sign ups will be processed between now (November) until May 31, 2020.
Contact michellepuzzo@urcommunitycares.com to sign up!
Internships and Scholarships
Be the Change - Apply for a Change Grant!Be the Change! Apply for a UConn Co-op Legacy Fellowship – Change Grant!
Apply by 2/10/2020: UConn undergraduates in all majors can apply for up to $2000 in funding to support projects that represent the legacy of the UConn Co-op's commitment to public engagement, innovation, and social impact.
What can you do with a Change Grant?
• Engage in a service initiative that benefits the UConn community or the broader community
• Provide training, resources, or educational activities to fill unmet needs
• Conduct research that has the potential to benefit the UConn community or the broader community, address community needs, inform policy, or impact practice
• Engage in an artistic endeavor or creative intervention that addresses social issues
• Design and/or prototype a product, device, or service that fills an unmet need, impacts the lives of others, and/or addresses a social or environmental problem
Projects need to be student-designed and/or student-led. Applications are accepted from individuals and from small groups (no more than 3 people) who will be working collaboratively or co-leading an initiative.
Application Deadline:
• Monday, February 10, 2020
More information on the Change Grant, program eligibility, and application process can be found at https://ugradresearch.uconn.edu/change.
Change-Grant-Spring-2020 Flyer
---
UConn IDEA Grant Accepting Applications
Applications for UConn IDEA Grant funding for summer 2020 are now open! The UConn IDEA Grant program awards funding of up to $4000 per student to support self-designed projects including:
• Artistic & creative endeavors
• Community service initiatives
• Entrepreneurial ventures & prototype development
• Research projects
• Other innovative, student-driven projects
Undergraduates in all majors at all UConn campuses can apply. Applications are accepted from individuals and from small groups.
Application Deadlines:
• Summer 2020 Funding: Monday, December 16, 2019
• 2020-21 Academic Year Funding: Monday, March 9, 2020
More information on the UConn IDEA Grant can be found at http://ugradresearch.uconn.edu/IDEA or by reaching out to Melissa Berkey at melissa.berkey@uconn.edu.
Requests will be processed until: 3/9/2020
Community Based Program Facilitator (Part- time)
The Program Facilitator is accountable for implementing community based programming to girls in grades K – 12.  She/he will deliver community based programming in Hartford, Manchester, New Britain, Waterbury, New Haven, Bridgeport, Danbury, Norwalk or New London as requested to ensure that Girl Scout program opportunities are provided to under served communities. S/he is responsible for providing quality Girl Scout program experiences according to established guidelines. We are open to working with students who are approved for work study or who are working on completing other programs as long as they align with our girl scout program objectives. This position starts around October, ranges from 3-20 hours a week, afternoon availability required.
MAJOR ACCOUNTABILITIES
Completes GS101 Training modules online and clearly understands the Girl Scouts Leadership Experience
Delivers community based program to girls in under served communities to meet the council's Plan of Achievement goals, objectives and initiatives, including membership goals.
Maintains new and established collaborative relationships with community organizations, schools, agencies and businesses in order to support and enhance community based program opportunities.
Works cooperatively with program partners, volunteers, and council staff.
Maintains accurate records pertaining to attendance, incidents, surveys, and other data as required.
Promotes additional council Girl Scout opportunities beyond community based program.
Implements product sales program in community based programming.
As necessary, assists Community Based Program Specialists in preparing and packaging program materials to deliver community based program curriculum
Embraces and enhances a culture that values diversity and reflects the council's commitment to diversity and inclusion.
Supports and promotes all aspects of Girl Scouting, by serving as a spokesperson for the movement and a voice on girl issues.
Other duties as assigned.
EDUCATION AND/OR WORK EXPERIENCE:
High School Diploma preferred or equivalent experience.
Bilingual preferred (English plus one other; Spanish a plus)
Experience working with youth.
Ability to work independently and in a group setting as needed.
Ability to work with a diverse group of staff, volunteers, and girls.
Ability to work well with internal and external customers.
Strong oral and written communication skills.
Knowledge of, or ability to learn, current girl issues and GSUSA programming.
College students in the following fields: Sociology, Psychology, Social work, Education or other related field
ADDITIONAL JOB REQUIREMENTS AND PHYSICAL DEMANDS:
Become a registered member and maintain membership in GSUSA.
Represent GSOFCT in professional Girl Scout attire.
Regional travel required from assigned service center to program sites.
Valid Connecticut driver's license.
Reliable transportation with proof of liability coverage of personal vehicle.
Physical ability to lift, carry, push, pull or move objects up to 25 lbs.
Sit or stand for long periods of time.
Ability to maneuver around an event setting, including set up, facilitation and cleanup.
Ability to maintain a flexible schedule.
WORK ENVIRONMENT
Work in community settings such as schools and community centers. Occasional work in an office environment.
For further information, please contact Elizabeth Carey at 203-239-2922 x3321 or by email at ECarey@gsofct.org