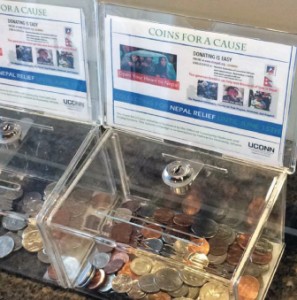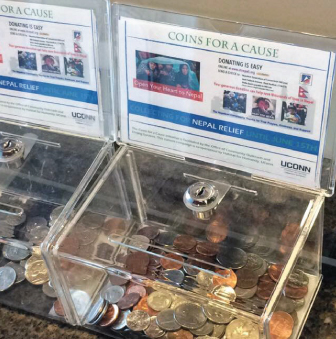 Coins for a Cause
Coins for a Cause is a collaboration between Dining Services, Student Activities Community Outreach, Student Activities Business Services, and various UConn registered student organizations to raise funds for non-profit organizations. Each month funds are collected through donation boxes located at the Dairy Bar. At the end of the month all of the change is collected, counted, deposited; each participating organization receives portion of the funds to be disbursed to the designated charities. This is a quick and easy way to donate a substantial amount of money for philanthropy.  Applications for the 2023-2024 cycle can be submitted here.
Please note Community Outreach reserves the right to change the designated charity to accommodate extenuating circumstances.
Relief Efforts
Community Outreach is aware of the needs that can arise from various disasters and devastating events and we know that the UConn community has always been very responsive with relief efforts. We provide resources to ensure that fundraising activities are done in a way that upholds the policies of the University as well as the laws of Connecticut. Visit our Relief Efforts page for more resources and to see a list of current projects taking place across campus.