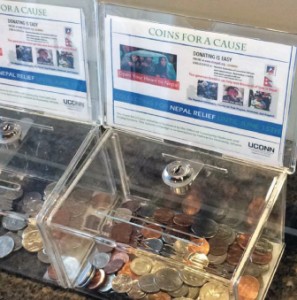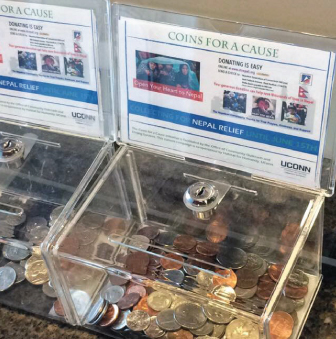 Coins for a Cause
Coins for a Cause is a collaboration between Dining Services, Community Outreach, and various UConn student organizations to raise funds for non-profit organizations. Each month funds are collected through donation boxes located in select Dining Services locations. At the end of the month all of the change is collected, counted, and rolled; a check is then sent to the designated philanthropy in the amount of the raised donations. This is a quick and easy way to donate a substantial amount of money for philanthropy.  Applications for the 2022-2023 Academic year can be submitted here.
Please note Community Outreach reserves the right to change the designated charity to accommodate extenuating circumstances.
Special Olympics Unified 3 v 3 Basketball Tournament
The mission of Special Olympics is to provide year-round sports training and athletic competition in a variety of Olympic-type sports for children and adults with intellectual disabilities. These continuing opportunities develop physical fitness, demonstrate courage, build skills, and develop friendships with families and other Special Olympics athletes and the community. This event allows various UConn student organizations and surrounding community organizations to form teams for participation in the basketball tournament as well as helping to raise money for Special Olympics branches in CT.
Community Outreach also has several standing Special Olympics partnerships to learn more about this partnership visit our Special Olympics page.
Students can also participate in many one-time experiences supporting Special Olympics CT through Community Service Days.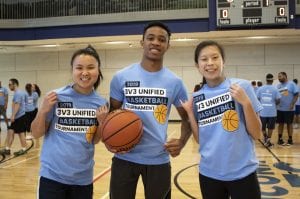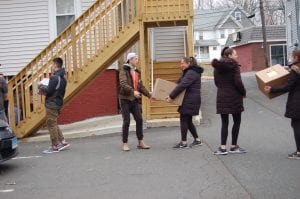 Relief Efforts
Community Outreach is aware of the needs that can arise from various disasters and devastating events and we know that the UConn community has always been very responsive with relief efforts. We provide resources to ensure that fundraising activities are done in a way that upholds the policies of the University as well as the laws of Connecticut. Visit our Relief Efforts page for more resources and to see a list of current projects taking place across campus.