Why Voting is Important
Voting is a large part of being a citizen of the United States. It is our responsibility in a system of checks and balances to voice our opinion in choosing the leaders of our nation. Without this duty, our futures would be held in a small number of hands. Voting is how we voice our opinions. With over 300 million individuals living in the United States, gathering a public opinion is next to impossible without voting. Voting can change the world in a substantial way. It is our responsibility to be a part of this change.
Unexpected Benefits of Voting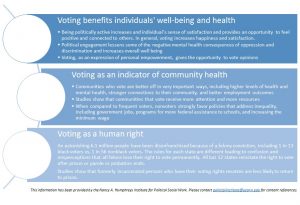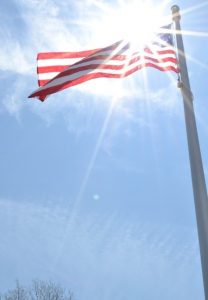 Steps to Vote
Are you a UConn student from out of state? You can vote here in Connecticut, in your home state, or by absentee ballot! Find a voter registration table on campus or go online at http://studentvote.org/
Educate Yourself – Learn about the candidates as well as their policies and what they stand for. Most candidates have a campaign website that outlines their beliefs. If you are registered to vote in Connecticut, visit The Alliance's Candidate Contact page to find out who is running in your district and how to contact them.
Get Out There and Vote! –
ELECTION DAY- November 6th polls open 6am to 8pm
Anyone encountering election related problems can contact the Election Day hotline at 1-866-733-2463
or by sending an email to elections@ct.gov
 Locations to Register
Right here on campus! – Look out for registration tables happening this fall before the November election
Department of Motor Vehicles – the closest DMV to the University of Connecticut is in Willimantic at 1557 Main Street
Town Hall – the Mansfield Town Hall is just a walk away from campus and offers registration forms in the registrar's office at 4 South Eagleville Road
Online-Many states, including CT, have online registration. Click here for online registration
Important Dates and Deadlines
Tuesday, September 25th is National Voter Registration Day
Friday, October 5th– Absentee Ballots available, you can apply for an AB before this deadline using the form below
Tuesday, October 30th @ 11:59pm– Online voter registration deadline, Last day to register online to vote on Nov. 6th
Tuesday, October 30th– Mail postmark voter registration deadline, if you are mailing in your voter registration card to the local registrar of voters, your VR card must be postmarked by this date.
Tuesday, November 6th– General Election day, polls open 6am-8pm. Absentee ballots must be received by local Town Clerk by close of the polls (8pm) or they will not be counted.
Tuesday, November 6th– Election Day Registration, You may register and vote in person on election day if you meet the eligibility requirements for voting in CT and you are not already registered, OR you are registered in your hometown and want to vote at school.
Deadlines are different for every state so make sure you know the voter registration deadline for your state. To find a list of deadlines for every state, visit this link: https://www.vote.org/voter-registration-deadlines/
Useful Links
CT Residents:
Out of State:
Out of State Voter Reg.– If you choose to vote in your home state you can register to vote and find out how to obtain an Absentee Ballot from that state. You can use Studentvote.org to register or obtain an absentee card.
Quick History of Voter Engagement

"Democracy cannot succeed unless those who express their choice are prepared to choose wisely. The real safeguard of democracy, therefore, is education."
-Franklin Delano Roosevelt