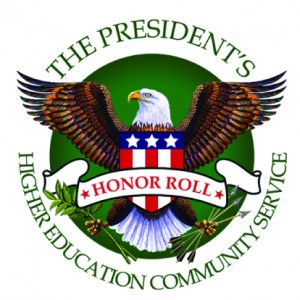 STORRS – UConn has been named to the President's Higher Education Community Service Honor Roll for three categories, earning an impressive "With Distinction" for the General Community Service category for the second time in three years.
The application included information about UConn's service and service-learning activities during the 2012-2013 academic year from student organizations and departments from throughout the University including the regional campuses, law school, and medical school. In total, more than 15,800 UConn students contributed about 1.4 million hours of service in the 2012-2013 academic year, including more than 6,000 contributing over 20 hours per semester. About 39 percent of UConn's student participation was through academic service-learning.
The Corporation for National and Community Service (CNCS), an independent federal agency that coordinates the program, named a Presidential Award winner in each of four categories: General Community Service, Interfaith Community Service, Economic Opportunity and Education. A total of 766 colleges and universities were named on the Honor Roll overall and UConn was the only Connecticut school to be recognized with a category "With Distinction" selection.
The Honor Roll "With Distinction" is given to applicants that "display strong levels of institutional commitment, provide a compelling case for partnerships that produce measurable impact in the community, and have a Federal Work-Study community service percentage of 15 percent or above," according to the description on the Corporation for National and Community Service's website.
E. Carol Polifroni, director of the Office of Public Engagement, says "The President's Honor Roll is affirmation of UConn's ability and commitment to meet its mission of preparing our graduates as engaged citizens. It also affirms the reciprocal nature of our work which concurrently enriches the student experience and that of the communities with whom we partner. Engagement is a co-created venture with mutual benefit and rewards".
CNCS has administered the award annually since 2006 to recognize institutions that achieve meaningful, measurable outcomes in the communities that they serve. The General Community Service category "recognizes institutions that have made a commitment to improving the quality of life of off-campus community residents, particularly low-income individuals" according to the CNCS website. UConn was also named on the Honor Roll for the Education and Economic Opportunity categories.
---
Programs highlighted in the General Community Service Category for UConn's 2014 honor roll application included:
UConn's Alternative Breaks: These experiences typically occur on weekends, winter break, or spring break and occur domestically and internationally and are organized across the University via Community Outreach as well as student organizations, departments, and religious communities. Alternative Breaks at UConn has grown significantly over the years and in the 2012-2013 academic year, 720 students and 34 faculty/staff participated in alternative break trips.
UConn Migrant Farm Worker Clinic: The UConn Migrant Farm Worker Clinic (UMFWC) was created to address the lack of access to health care for farm workers and their families, a majority of whom are low-income, transient, lack insurance coverage, and have limited English proficiency. CT AHEC, whose offices are located at the UConn Health Center, oversees recruitment and training of volunteers while medical, dental, and undergraduate student coordinators implement the clinics with licensed healthcare professionals. In 2013, 550 clinical and non-clinical students and 109 healthcare professionals volunteered. This included 53 UConn undergraduates from the Storrs campus.
Kids & UConn Bridging Education (KUBE): KUBE, a collaboration among the UConn cultural centers, is a unique one-on-one multicultural mentoring program for all interested middle school students (grades 5-8) from the Killingly Intermediate School and Windham Middle School. The goals of the program are to reduce racial, ethnic and economic isolation and to help students achieve academic success in science, writing, and 21st Century skills (Life/Career, Innovation, and Information/technology literacy). The UConn students consist of two program coordinators, ten group leaders, and approximately 75 mentors that meet monthly with the 75 middle school students at the Storrs campus.
Nominations for the Education category included Community Outreach's partnership with Jumpstart, RUN with LC (Recruiting underrepresented individuals to nursing through learning communities) and Husky Sport. Nominations in the Economic Opportunity category included the Accounting Department and UConn School of Business' Volunteer Income Tax Assistance (VITA) program and the Social Entrepreneurship Corps organized through the UConn Study Abroad Office in consultation with Latin American Studies and sponsored by the UConn School of Business and the Honors Program.
In addition to being on the President's Higher Education Community Service Honor Roll in each year it applied, UConn has received the organization's Katrina Compassion Award for Excellence in Hurricane Relief Service (2006), a General Community Service category designation "with distinction" (2012) and last year was named among five Presidential Award winners in the 2013 Honor Roll.
For more information about the Honor Roll and to see the full list of awardees visit nationalservice.gov/HonorRoll.
For additional information please contact E. Carol Polifroni in the Office of Public Engagement at engagement@uconn.edu or Gina DeVivo-Brassaw in the Office of Community Outreach at communityoutreach@uconn.edu.
Public Engagement at the University of Connecticut provides leadership to connect, coordinate, facilitate, foster, prepare and promote outreach programs and engaged scholarship which serve the public good, help prepare our students to be leaders in their chosen fields, and support faculty and staff in scholarly outreach efforts.
Community Outreach's mission is to enrich learning at the University of Connecticut through preparing students to be active global citizens by engaging them in service activities that enhance the quality of life for both others and themselves.